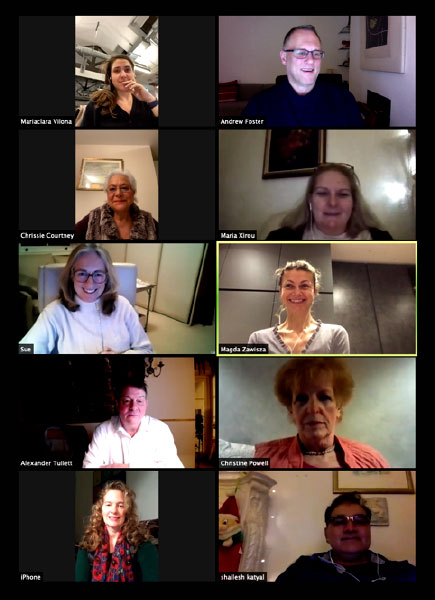 Chrissie Courtney - Chair:
Contact: ecsrachair@btinternet.com
Alex Tullett - Hon. Treasurer - Planning/Licencing:
Contact: ecsra@btinternet.com
Heidi Bradner: Rubbish & Recycling
Andrew Foster
Shailesh Katyal
Sue Lupton: Editor Newsletter:
Contact:  sue@suelupton.com
Christine Powell: Membership Secretary/Environment.
Contact: ecsramembers@talktalk.net
Mariaclara Vilona
Maria Xirou
Magda Zawisza
WHAT WE DO
The ECSRA Executive Committee meet quarterly to discuss updates on Finances, Rubbish and Recycling, Traffic, Parking and Planning, Environment, Membership, Policing, Events and Projects currently being undertaken by ECSRA. See copy of a typical ECSRA Executive Committee Agenda below.
EARL'S COURT SQUARE RESIDENTS' ASSOCIATION
EXECUTIVE COMMITTEE MEETING TO BE HELD ON
WEDNESDAY 17 FEBRUARY 2021 AT 18:30 VIA ZOOM
AGENDA
APOLOGIES FOR ABSENCE
MINUTES OF LAST MEETING/MATTERS ARISING
TREASURER'S REPORT (AT)
MEMBERSHIP (CP)
REFUSE COLLECTION/RECYCLING (HB)
ENVIRONMENT (CP)
ECSRA MAGAZINE/WEBSITE (SL/CC))
PLANNING/LICENSING/TRAFFIC/PARKING (AT)
CYCLE LANES – KENSINGTON HIGH STREET (AT)

REPLACEMENT WINDOWS IN CONSERVATION AREA/DUTCH HOUSE (AT)

304 EARL'S COURT ROAD – NEW SHOP (AT)

RBKC BICYCLE HANGERS (AT/CC/HB)
NCIL FUNDING FOR PLANTERS IN SE ARM OF SQUARE. (CC)
APPLICATION APPROVED/IMPLEMENTATION (CC)
NICHOLSON FUND WORKING PARTY (AF)
LIGHTING OF THE CHRISTMAS TREE – 13 DECEMBER (CC)
SUB-COMMITTEE "NOTABLES" PLAQUES /CLLL FUNDING (CP)
APPLICATION APPROVED/IMPLEMENTATION (CP/SL)
ZOOM AGM – 24.02.2001
NOTICES AGM

CHANGE TO CONSTITUTION/QUERY - PROXY VOTING

RE-ELECTION CC/AT/CP/AF – NEED PROPOSERS/SECONDERS

ZOOM AGM PROCEDURE/VOTING TESTING/RECORDING/QUERIES
LIAISON WITH OTHER ORGANISATIONS (ALL)
Earl's Court Society (AT)

Kensington Society (CP)

PPG/Earl's Court Health & Wellbeing Centre/COVID-19 Hub

Earl's Court Safer Neighborhood Ward Police Panel – 12.01.2021 (CC)
A.O.B
DATE OF NEXT MEETING