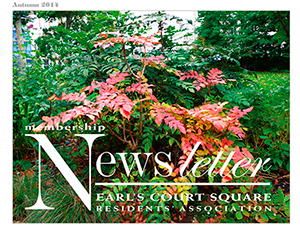 The Autumn Newsheet focuses on current issues and events that have taken place during the summer.
The Annual BBQ and the Strawberry Tea party, held in conjunction with the Earl's Court Community Trust, both attracted many people - some regular and some newcomers to our Square for whom it was an opportunity to meet the neighbours. Many of our summer events are held in the Garden Square, which is tended with loving care by a team of volunteers. The good news is that Earl's Court Square was awarded a Silver Certificate by the London Squares competition. But sadly the garden has been damaged by the children of some inconsiderate visitors at considerable cost to the Garden Squares committee who had to rectify the problems.
Visitors to the Square are asked to please observe the rules clearly on display on the notice boards so that this situation can be avoided in future.
For newcomers to the area, keys to the Garden Square can be obtained from The Garden Square Sub-Committee http://www.ecsgarden.org.uk or see Notice Board at entrance to Garden Square.
---
PDF Downloads