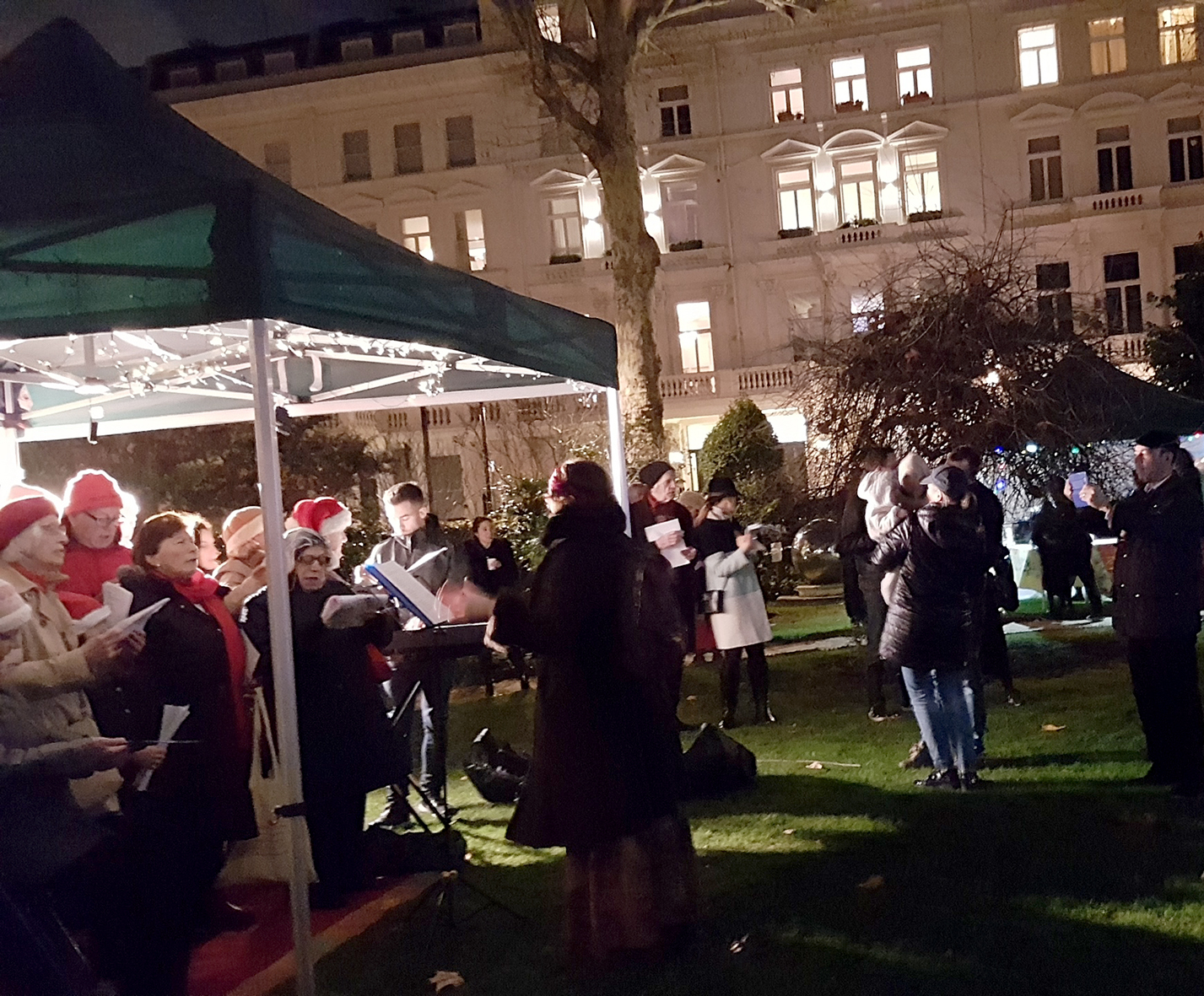 Earl's Court Square Christmas Carol Service-The Warm Voices and Warm Hearts of a Christmas Community At song
On a cold and frosty evening, in the bleak midwinter, not quite next to a lonely cattle shed but in the far more attractive and convivial surroundings of the lovely Earl's Court Square, stood a Christmas gathering of Kensington's most gorgeous people, the tinselled, winter-hatted residents of Earl's Court Square and their seriously attractive friends. There, next to the exciting Christmas tree, little children waited with baited frosty breath, warming their hands on hot drinks to see the Christmas lights being switched on – the signal to snatch a sweety from the tree. Adults wished each other seasonal greetings, sharing lashings of hot wine and avalanches of mince pies their hearts equally lifted by this now long established ritual of community carol service affection. Song sheets were handed out to the musically enthusiastic and accomplished; likewise, song sheets were handed out to the musically shy and the tone deaf.
The singing began. With gusto, 'Good King Wenceslas was serenaded beautifully by the sweet voiced; contrastingly, the musically shy mumbled a bit in praise of the King whilst the tone deaf were lucky they were not arrested for attempted Regicide. As more of the excellent hot wine was consumed, the carols improved with many tra la las being in time and on pitch. Silent Night was surprisingly moving whilst Once In Royal David's City approached the community spiritual under the Earl's Court Christmas stars. It makes a difference to us all, standing in the cold and the dark singing songs, whether we sing them badly or beautifully. It makes a difference to the children who roared out 'We Wish You A Merry Christmas!' not Once! Not Twice!! But Enough times and with enough volume for all in Earl's Court to be certain what time of year it was!!! Earl's Court is a special place in London. We have our lovely traditions of showing each other how much we care. Earl's Court Square Christmas Carol Service is a beautiful annual Earl's Court tradition where all who attend feel more than welcome and more than loved. Congratulations you, of Earl's Court Square, the Good King is lucky to have your voices and your good cheer. Bottoms up for 2019. Be there and let's 'Glory in Excelsis' together.