JO WARWICK : 1915 - 2011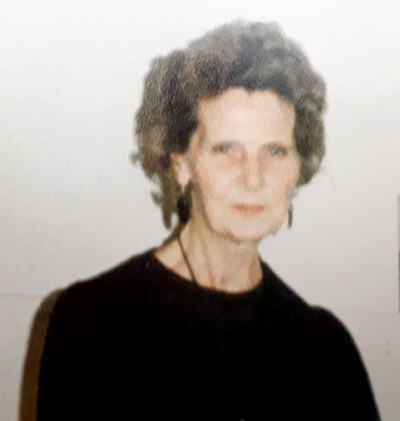 Jo Warwick has been selected in the first group to be honoured by the ECSRA committee, as a person who tirelessly contributed and organized the membership manually for the Square for 25 years in her retirement.
Jo and her daughter Jenny moved into the basement flat of number 16 in the summer of 1959, the house being owned by Heywood and Winsome Gandell (unmarried twins and last survivors of their family) who had bought the house when it was new in about 1907. Their part of the house...'upstairs' had been little changed since their parents had died in the 1940s. The top floor was then converted into a separate flat, as was the basement.
"My mother lived there for 52 years until her death at 96 in 2011. Pamela Case, also a committee member, bought the house when the Gandell twins went into a nursing home but sadly died of cancer at the age of 60 in 2004 (approx).
My mother had been a nurse and a sister tutor at St. George's Hospital, Hyde Park Corner (now the Lansdowne Hotel) prior to her marriage but opted for a less challenging job when my father died in 1955 and as I was only 6 years old at the time she worked as an accountants' clerk from the mid-50s and was an arithmetic whizz (spurning the adding machines beloved by others in her office in the '50s and '60s!).
She was also able to identify the day of the week accurately if given the date, month and year! Kevin Colgan also remembers this and could never fathom out how she did it.
"From the early 1960s my mother regularly attended the Poetry Society meetings in No. 21 but as she worked full time, she really only got involved with the Square when she retired. Betty Boswell the sculptor (and wife of wartime cartoonist James Boswell) whom she met, via a mutual friend, introduced my mother to her pottery class in the early '70s and this was one of my mother's earliest social connections within the Square."
" Mother was part of the founding committee members of the Residents' Association and thereafter the Garden Sub-Committee. She was very committed to keeping the plants in the Square Garden watered and was still doing this into her early 80s until Victor Smith took over. She would quote John Keats (her favourite poet) when she felt inspired by something beautiful and would say 'A thing of beauty is a joy forever.' "
My mother was the issuer of keys and receiver of subscriptions for access to the Garden for many years, from the mid-70s and I do remember large ledgers at her flat looking very organised and tidily set-out. She also did the ledgers for the Earl's Court Square Residents' Association (ECSRA) as she was on both committees. I would visit my mother every week and she would often mention the fact that she'd been to a meeting and what the topic of discussion was.
Although quite a private person my mother very much enjoyed social gatherings with others in the Square, which were usually connected with committee members and once a year, on 12th Night, after Christmas, she would hold a party at her flat which I remember well, as I attended many of them throughout the 70s and 80s and 90s. They were a lot of fun and the flat was full of people and laughter on these occasions. Although, she hardly drank alcohol, there seemed always to be endless bottles available from the wine cellar. This was because an old family friend who lived in France thought it would be good for my mother to have a couple of glasses of wine in the evening and had 12 bottle crates sent regularly from the Army and Navy stores!...which she didn't actually indulge in, so it built up! It was wonderful to see how many vibrant and different types of people had come together for love of the Square.
When asked for Jo's philosophy in life, Jenny said that Jo had a couple of important sayings that she grew up with. When procrastinating about tedious tasks 'You could have got that done twice over in the time you've been thinking about it'. To her talkative only daughter 'You have two ears and one mouth for a reason.'
Jo abhorred waste and complacency about time, energy and ability and material things. When asked to do something 'If I say I'm going to do it, I will'....and she did! She struggled to understand why people in life frequently tell others that they will do something and then they don't. She held a commitment like this as a promise and a point of honour, no matter how small.
Following on from this, when I showed amazement that she'd achieved something time consuming and sometimes complicated that I or someone else had asked her to do, extra to her full time working day and doing household tasks she would always say 'If you want anything done, ask a busy person'....all amazing lessons in life.
"If I can offer a word to sum up the essence of my mother I would simply say 'Integrity'. "
The Earl's Court Square Residents' Association (ECSRA) and Garden Sub-Committee thank you for your contribution in helping us to continue your work and our volunteer work on behalf of the residents' today.