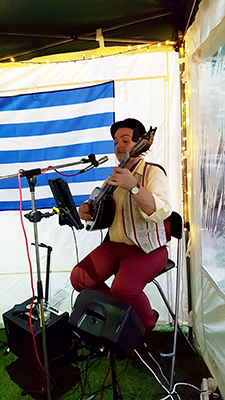 Any excuse to meet up with our neighbours and have a glass or two!
So, this year's themed Greek evening in the garden of Earl's Court Square on the 8th of September, was a perfect opportunity.
Andrew mixed ouzo cocktails and Maria (ECSRA's Membership Secretary) provided an array of delicious and authentic Greek canapés - with serving help from Sue and Mary. A team of Committee volunteers put up a fairy-lit marquee where Members were able to mix, mingle and dance to background music from The London Bouzouki Player (kindly sponsored by John D Wood). Sadly, this year's event wasn't as well attended, probably due to a busy Saturday night, which competed with the England/Croatia football match and the Last Night of the Proms.
But the added attraction of the chance to sample wonderful authentic Greek fare with music to match made it all worthwhile. As usually happens, we met neighbours who, like us, had also lived here for 30 plus years.
Funny how we had never met before!