"Cometh the hour, cometh the woman".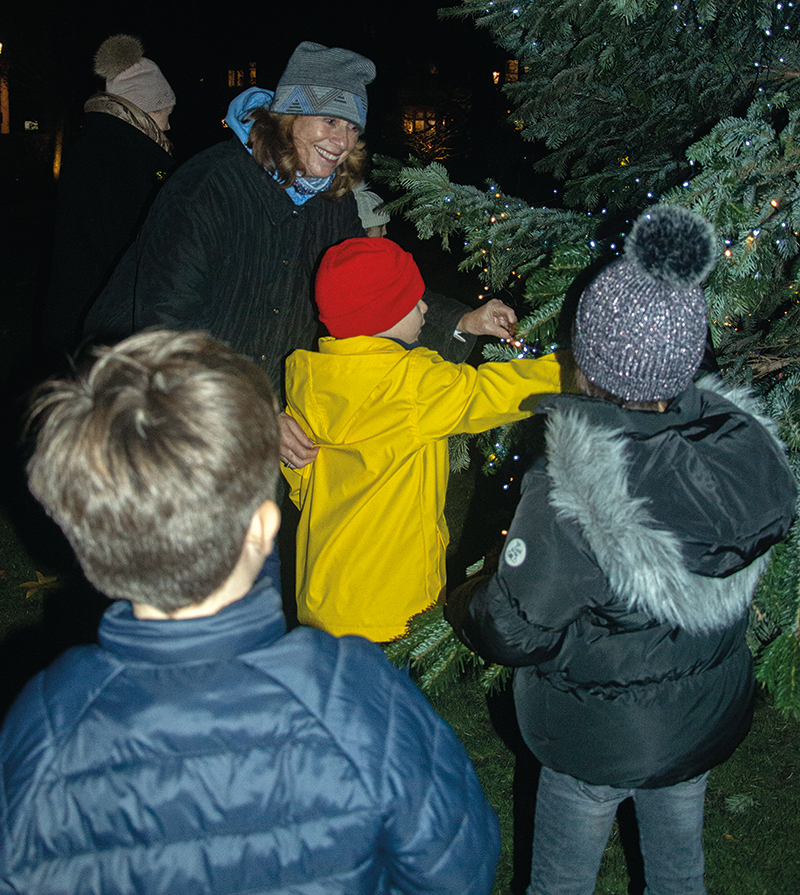 Thursday 5th December witnessed the biggest erection seen in Earl's Court Square for some time.
The Christmas tree arrived just after nine o'clock, and six nervous males were loitering, having volunteered to get it up.  It took all our strength to get it out of the lorry, and carry it across the grass.
Oddly the experts who had supplied the tree had come armed with only a few bits of string – no crane.  The task was clearly Herculean, and none of the local geriatric males came in that category.
And then the Garden Committee Chairman stepped forward and showed why she is a worthy holder of that post. "Use the bags of gravel to build a small mountain which can then act as a fulcrum. Tie the string around the upper parts of the tree and heave".   "Thank you Katrina" was muttered sotto voce.
Slight progress, but still a long way from success. Quite simply, we had need of more Y chromosomes and a lot more testosterone.
Once again our valiant Chairman sprang to the rescue. She had spotted a building site on the corner of the square with four YOUNG muscle bound males.
She set off and using her X chromosomal charm soon returned with four nervous Poles. Nobody says No to this Chairman.  They were brilliant and after muttering only a few Polish proverbs, the tree was nearly vertical.  They were each rewarded with a mince pie, freshly hand made.
At this point the Chair of the Residents Association came into her own. Until now, she had been holding her piece of string as if there was a dog at the end rather than a 40ft spruce. Now her judgment about degrees left / right / back / forward was invaluable.
And then JOY the plastic netting was cut away and the perfect tree in all its glory was revealed – perfectly balanced.  The piece de resistance was the star on the summit – no virgins or fairies for Earl's Court Square.
Three days later came the official switching on of the illuminations. A massed crowd assembled to sup the lethal brew emerging from the corner flat, and listen to the Earl's Courtiers choir beautifully singing familiar carols.
Do join us for the dismantling. We hope to have recovered from strained backs and punctured egos by 5thJanuary. Chelsea & Westminster A&E is on standby.
ADBM 18th December 2019