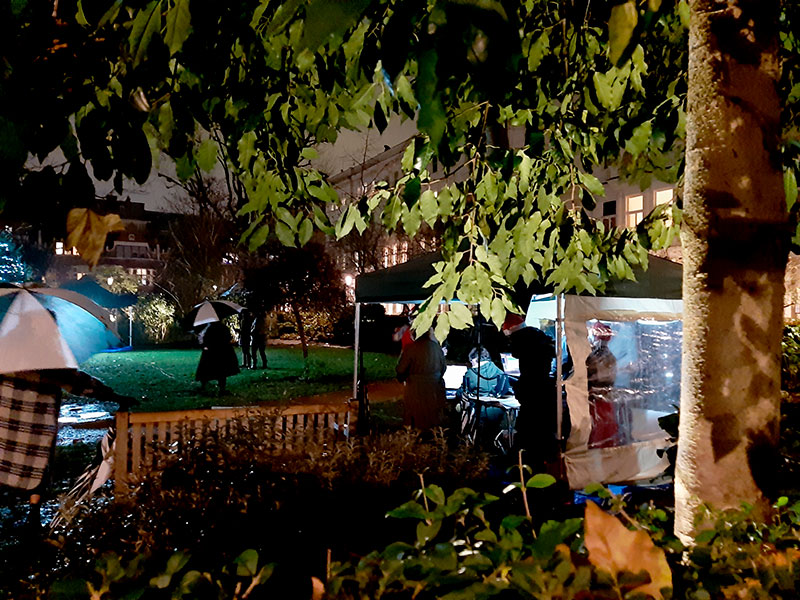 We thought it would be nice if we broke with tradition this year and ran the lighting as a joint event with the Garden Management Sub-Committee since it would be a different event to our usual ECSRA mulled wine and mince pies evening. The show went on, albeit with only the singers and a few committee stewards inside the garden.
Some of us watched from the railings and others from their doorsteps and balcony, as 'twinkles and cheer' came to Earl's Court Square with singers from the Royal Opera House and West End stage. Named for the occasion the Earl's Court Festiviers, sponsored by tlc who were trouping the Christmas spirit with some of our favourite carols throughout the evening in the Earl's Court Squares. We were the first port of call and thanks to Toby for the 'magical listening' and joint faultless organising with the committees.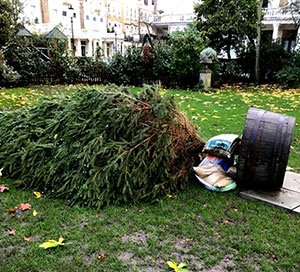 It was arguably the nicest Christmas tree we have had and always brings a sense of occasion and round up to the year. So, when we had the huge wind overnight on Boxing Day and our tree fell to the ground, a signal went around for help to lift it back. It didn't take much time to right the lovely tree and its lights. It's taken years of patience and prayers to make sure the lights go on and stay on and having out foxed Mr. Foxy (who chews the light cables) and the rain and now the big wind, we give a cheer!!
It was great to see 20 odd people turn up to help, but hero Kevin Colgan (Mr. Fixit) had it sorted in a thrice. To add a smile to one's face, young Benedict offered round mince pies to all, which incidentally, he helped to make.