A TASTE OF ITALY    

    
An evening for members only
Members were invited to a "Taste of Italy" evening in Earl's Court Square Gardens on Thursday 14 September from 18:30 – 20:30.The marquee was erected by a team of helpers and festooned with fairy lights by Andrew.  Mariaclara who is particularly to be congratulated, donated the Italian Apero aperitifs (which proved very popular) and made some amazing authentic Italian canapés.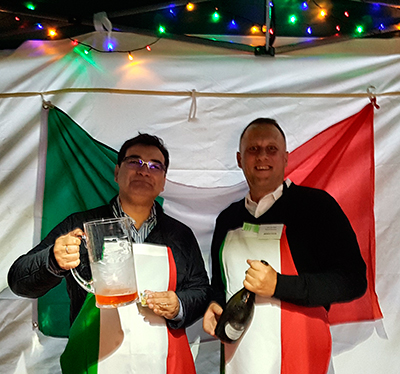 Sue did lots of food shopping and organised a team of helpers to prepare more canapés. The bar was manned by Andrew and Shailesh, who served a selection of Italian wines and set the scene with their Italian flag aprons, and the accordion music was provided by Stephanie of "Viva Italia" - who was kindly sponsored by John D. Wood.
The Executive Committee was in attendance and was very pleased to see so many Members enjoying the evening getting to know each other or catching up with old friends.
It was a lovely atmosphere. As the moon came up our tents were sparkling.