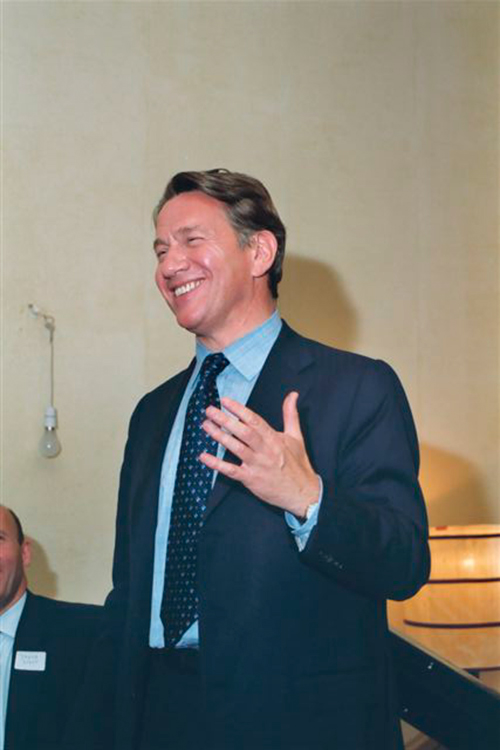 The Rt. Hon. Michael Portillo MP joins us for
An evening at the Poets' House, 21 Earl's Court Square
(By kind permission of Jacob & Tina Stott)
Tuesday the 14th October 2003 at 7.00 pm
He came, he saw, he conquered, he resigned !
Your committee had wrestled manfully with the problem of how to amuse the locals between the outrageously successful summer barbecue and the vocally challenging Christmas Tree lighting.
A party with a distinguished guest seemed the ideal. The list of local residents agreed as crowd pullers was not short. Unfortunately Hugh Grant was away filming and Madonna was away recording. That is NOT to hint that our local MP was anything other than our first choice, only to give an indication of the embarrass de richesses from which this neighbourhood suffers. (Incidentally your committee's latest lobbying project is aimed at erecting a Blue Plaque on the house in Earls Court Square once inhabited by Dame Ninette de Valois).
Finding an appropriate venue was the next item. We all had happy memories of the AGM's that used to be held in the Poet's House (number 21) when the Digby's lived there. On approaching the current residents, Teena Stott and her family, we were overwhelmed with the generosity and helpfulness of their response. Virtually all that we had to do was to get Michael and 100 local constituents to turn up on the night. A small pourboire to the Tory whips ensured that the MP for the Royal Borough was let out for the evening.
We had agonised for hours over how to host him. Silly us! This is a guy who was born into working a room, and pressing flesh, which he did with total charm. This is also a person who knows how to organise the draw for a tombola (raffle for overseas readers) in five minutes flat.
To those us born in Fife, the highlight of the evening was the discovery that Adam Smith, Gordon Brown and Michael Portillo all have their roots in Kirkcaldy (look it up in an atlas). Although Michael was Shadow Chancellor to Gordon, the only conversation ever to take place between the two of them was in a procession for the State opening of Parliament.
His speech was unexpected. The first half concerned his passion for helping the former Yugoslavia to come to terms with its recent past. Finding, recovering and identifying the bodies of the dead was an essential step in achieving "closure". The Professor of Genetics at University College was astonished to hear the virtues of DNA testing being extolled at such an event! The second half was a shameless plug for his forthcoming TV programme about looking after three children in a one parent family on £100 per week. It certainly increased his audience by at least two.
All in all it was a most delightful evening and the 100 plus guests owe an enormous debt of gratitude to the Stott family in general and Teena in particular for welcoming us into their lovely home
The only black spot was that Michael announced his forthcoming resignation as our MP almost immediately afterwards. Was it something we said? Did he feel having met us that the job was just too undemanding for someone with his egregious talent? Whatever his thinking, we certainly wish him well in his new career and look forward to welcoming our new representative to a similar event in a couple of years or so. Roll on the election.
Alan Malcolm
---
PDF Downloads